Albie and Bonito Fishing Lures
False Albacore and Bonito Fishing is a Light Tackle Game.
Ocean State Tackle offers the Best Selection of Lures for Albie and Bonito Fishing
We offer the best variety of best metal, epoxy and soft plastic lures for False Albacore and Green Bonito fishing. Most albies and bonito are caught near the surface as they forage on small baitfish. These are fast moving fish that are aggressive. Metal lures like Daddy Mac Jigs and Deadly Dicks offer casting distance and profiles that match the hatch. Fast retrieves are necessary to keep these in the strike zone. New Epoxy Jigs by Hogy SI Lures offer a deeper finish that mimics baitfish translucent appearance can be very effective. The SI Epoxy Jigs offer good casting distance but are a bit more buoyant and allow for a slower retrieve.
Albie Snax by Long Cast Plastics offer good casting distance.
The soft-plastic lure is designed to fish better, including casting farther, to albies, bonito or even striped bass, when stripers forage on sand eels.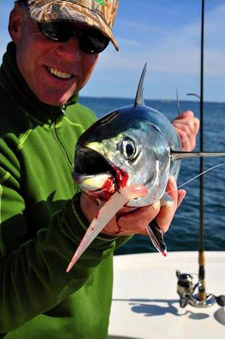 Albie Snax are fully round in cross section, perfectly streamlined for flight, and are the maximum weight, the company says.
That's unlike other plastics that are lighter and have flattened sides.
The round body is also a perfect match for weedless hooks, and has an advantage for "skinning" the hook point, the company says.
In flat baits, the hook can only be buried once, in the perfect spot.
With a round bait, once a fish strikes, tearing the hook through the skinned spot, you slide the hook out of the bait, turn it a few degrees, and rig it again.
This can be repeated dozens of times, the company says.
Why rig weedless?
That helps the lure swim lifelike, but also prevents seaweed from fouling the hook.
The company is just as concerned with the lure's action.
Albie Snax are equally impressive through the water as in the air, Long Cast says.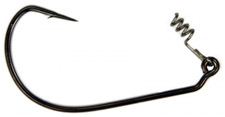 The 5-inch, ½-ounce
Albie Snax are available
in white, pink, amber and olive.
Hogy 5/8 oz SI Epoxy Jigs Albie and Bonito Jigs
Hogy 5/8 oz SI Epoxy Jigs $8.95
Hogy 7/8 oz SI Epoxy Jigs Albie and Bonito Jigs
7/8 Oz Hogy SI Epoxy Jigs $8.95
7/8oz Epoxy Olive VMC Hook
7/8oz Epoxy Green VMC Hook
7/8oz Epoxy Black Silver VMC Hook
Ocean State Tackle has the largest selection of the best False Albacore and Bonito Lures 23 different Hogy SI Epoxy Jigs in Stock
Pink Hogy SI Epoxy Jigs have been the most productive lure for albies and bonito this season from Westerly RI , Martha's Vineyard, Nantucket and The Cape Cod Canal
We have Hogy SI Jigs from 15 grams to 60 grams in stock
Ocean State Tackle is committed to serve light tackle anglers with the best selection of lures, quality tactical reels, a good selection of light tackle surf and boat rods. Ocean State Tackle offer Power Pro braided line Original and Super Slick and Suffix 832 Advanced Superline
Daddy Mac Lures

Albie Bonito Jig Series


DM-A14-C Chrome 1.4oz. $6.59

DM-A14-H Herring 1.4oz. $6.59



DM-A14-SE Sand Eel 1.4oz. $6.59

DM-A14-SEG Sand Eel Green 1.4oz. $6.59

DM-A14-S Squid 1.4oz. $6.59

DM-A1H-H Herring .5oz. $6.39
DM-A1H-SE Sand Eel .5oz. $6.39

DM-A1H-SEG Sand Eel Green .5oz. $6.39

DM-A1H-S Squid .5oz. $6.39
Size
5 inches
1/2 ounce

Colors
White, Pink, Amber, Olive

Description
Shaped to replicate the small baitfish and squid that False Albacore and Bonito inhale. Also a great imitator

of baby sandeels for when Striped Bass are keying in on them.

Designed to cast farther than all other unweighted soft plastics of its size.



Techniques
If you are targeting hardtails, generally keep the Albie Snax close to, if not on the water's surface. The speed with which these small tunas strike is breathtaking, so topwater fishing is our preferred method of targeting them. A fast retrieve is usually best; try to make the Snax skip and splash to draw the fish in. If you are doing this and an albie strikes but doesn't hook up, keep cranking and if anything speed it up on the next crank. The fish will come back to hit again more often than not. The composition of this bait also allows for it to be fished near the surface with slow retrieve, a trait not found in weighted offerings. This is important when only a few fish are breaking, as a fast retrieve will draw the lure out of the strike zone too quickly. Test your nerve and see if you can allow the bait to just sit in the fray, perhaps giving it a twitch or two. The results can be incredible.

Rigging
-Albie Snax Hook
Albie Snax Hooks

Size
3/0

Color
Black Nickel

Description
-Ultra Sharp
-Swimbait Style
-Stainless Steel Corkscrew

The screw-in style hook is designed to allow for weedless rigging, very similar to that of a standard offset bend worm hook. The screw provides slightly better durability than an offset hook, and it pairs up seamlessly with the Albie Snax.

---